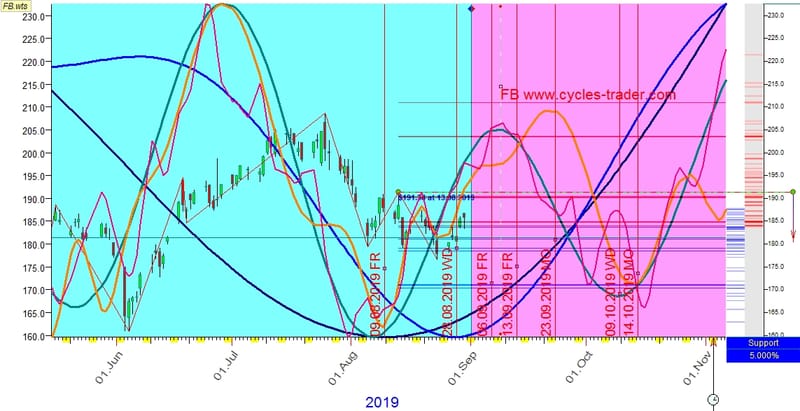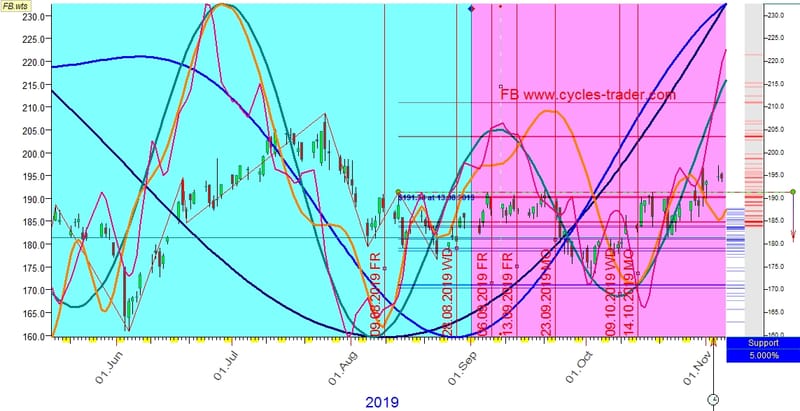 Trading is the art of forecasting.
When we use technical analysis we are looking for conditions in the price that will predict in high confidence what would be the move. For example, when the price reached a support level and break through we have a high confidence that it will continue, at least for a short period of time in this direction. We are also looking for the next change in trend when the price is moving in the opposite direction, to see if it passed the last high or low, in order to predict if this is a change in trend or just a small correction.
The FutureChart provides you with the following feature: get an early, visual alert of price changing direction.
The attached example shows the FutureChart for FB (Facebook) from 1 Sep 2019 to 1 Nov 2019 (2 months). The price in the lower picture is added after the forecast was done. As we can see, the annual (dark blue) and quarterly (blue) cycles show up. However, the monthly (green) cycles indicates a sideway and the bi-weekly (orange) and weekly cycles indicate the exact dates where the price goes up or down. This is a great help to any trader, even the most experienced.
The advantages are:
Get into the trade much earlier
Stay in the trade much longer
Get out of the trade on time
Have more confidence in your trades as you know what to expect
Please note, the market will always be unpredictable in a one way or another. Even with these genius forecasts you will still need to use your risk mitigation tools such as stop loss. The projection lines may show as inversions from time to time. Although this inversion phenomena happens only rarely, you should still be using the risk management tools you already use for your trading.
ORDER NOW YOUR 1, 2 or 3 MONTHS FORECAST TO GET YOUR SUPERIOR ADVANTAGE
Examples
TEVA is recovering? a long term analysis
20% And Counting! JD 2-Months Later
20% could have been yours!
German DAX index performance of the 5_Layer model 2018
GOLD forecast
12 Stocks randomly selected a day before reporting, showing 4 months of forecast
A forecast for MU that was correct for 15 months
JD successful forecast for 1 month
SHOP long term forecast
SHOP short term forecast
GE forecast
SOXX Semiconductors ETF forecast
BA forecast video
AMBA forecast video